One Day Seminar on 'ARTIFICIAL INTELLIGENCE, MACHINE LEARNING & DATA SCIENCE' To Be Organized in Kalinga University
New Raipur. Kalinga University, Raipur a NAAC Accredited University with Grade B+ and Ranked in Top 151-200 Universities of the Country in NIRF Rankings 2021, has been established as a multidisciplinary research focused and student centric University with the aim to support learning that will advance human knowledge to develop and educate the leaders of tomorrow and research that tackles the most pressing problems of the State, the Country and the global community.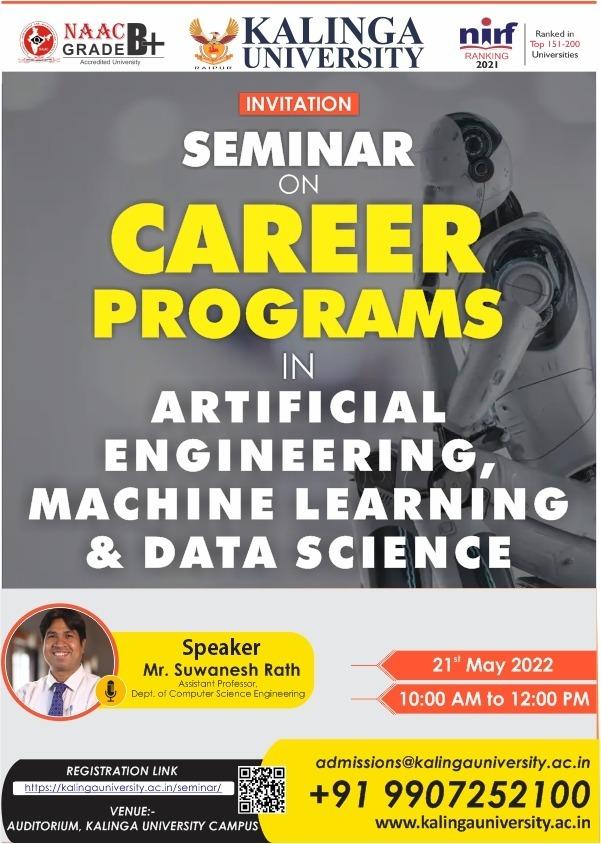 Strategically located in the Smart City of New Raipur, this University has started carving a niche for itself in the education domain and is rising as a shining star on the horizon of quality education. It is fast emerging as a center of excellence of Higher education in Central India.
The Department of Computer Science at Kalinga University is going to organize a one-day seminar on 21st May, 2022 from 10:00 am to 12:00 pm. for aspiring individuals planning to make a career in the diverse fields of Artificial Engineering, Machine Learning and Data Science, which will include students of 12th standard, final year graduation students and any individual planning to make a career in Computer Science.
Artificial intelligence (AI) refers to the simulation of human intelligence in machines that are programmed to think like humans and mimic their actions. The term may also be applied to any machine that exhibits traits associated with a human mind such as learning and problem-solving. The ideal characteristic of artificial intelligence is its ability to rationalize and take actions that have the best chance of achieving a specific goal. Machine learning is a type of artificial intelligence that allows software applications to become more accurate at predicting outcomes without being explicitly programmed to do so. Many of today's leading companies, such as Facebook, Google and Uber, make machine learning a central part of their operations. Machine learning has become a significant competitive differentiator for many companies. Data science is the domain of study that deals with vast volumes of data using modern tools and techniques to find unseen patterns, derive meaningful information, and make business decisions. Data science uses complex machine learning algorithms to build predictive models. A Data Scientist analyzes business data to extract meaningful insights. In other words, a data scientist solves business problems through a series of steps. An therefore it will be extremely beneficial to participate in this seminar as it will be providing a comprehensive look at the field of Computer Science.
The Speaker for this event will be Mr. SuwaneshRath, Assistant Professor, Department of Computer Science Engineering,Kalinga University. The seminar aims to help aspiring individuals to overcome all the challenges that one has to face in the journey to build a career in Computer Science. The event is open to all and it will provide an excellent learning opportunity which should not be missed. Certificate of Participation will also be provided to all the participants.  For more details regarding the event and registrations refer to the brochure.